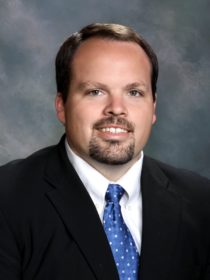 Jeremy Nelms
NGN Director, Secretary/Treasurer
General Manager, BRMEMC
Jeremy Nelms, P.E. serves as the General Manager for Blue Ridge Mountain Electric Membership Corporation (BRMEMC), where he has had the privilege of being a team member since August of 2016.  Prior to his arrival at BRMEMC, Jeremy served as the Director of Engineering and Operations at Talquin Electric Cooperative in Quincy, FL. In his role as General Manager at BRMEMC, Jeremy is the executive leader providing technical and operational expertise and guidance in all aspects of Cooperative management, process development, and strategic planning.  His overall responsibility includes the supervision of 188 employees and an annual budget in excess of $85 Million, operating a 6,000-mile electric distribution system that covers portions of five counties over Georgia and North Carolina.
Additional professional credits include that of principal author and technical specialist for application development and award of the much sought after Department of Energy Smart Grid Investment funding, then awarded to only one hundred electric utilities across the nation.
Academically, Jeremy possesses both a B.S. in Electrical Engineering and Wireless Engineering from Auburn University, as well as a MBA from Florida State University.  A licensed Professional Engineer (P.E.) in both Georgia and Florida, Jeremy is also a certified Professional Distribution Engineer by the Tennessee Valley Public Power Authority.  Jeremy and his wife, Elizabeth, reside in Blairsville with their two children, Bradlee and Mara.
BRMEMC
875 Main St. East
Young Harris, GA 30582