When Angela Simpson, deputy administrator of the National Telecommunications and Information Administration (NTIA), spoke at the Education Exchange Launch last month, it brought full circle the first visit nearly five years ago, when Joe Biden kicked off the BTOP investment program with a $33.5 million grant award for the North Georgia Network.
"We know that economic development and education go hand-in-hand. To attract 21st century employers to the greatest extent possible, you need not only cutting-edge communications networks, but also a highly skilled, digitally literate workforce."
-Angela Simpson, NTIA Deputy Assistant Secretary, Dept of Commerce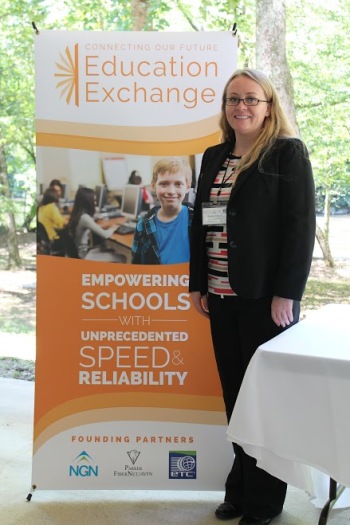 Carrying the banner for broadband from such a high view, Ms. Simpson knows full well the impact it can have on communities. She acknowledged that the original goal of the BTOP investment was to drive growth and create jobs in a place that was in danger of being left behind in today's knowledge-based economy with the contraction or disappearance of businesses such as local textile mills, auto parts factories and construction trades. "And we are seeing that vision become reality as the advanced communications infrastructure draws data centers, call centers and other information-age employers to the area."
She believes that the 3,000-mile fiber optic network linking together more than thirty K-12 school districts and more than 250,000 students will "help level the playing field between North Georgia schools and those in urban and suburban areas with many more resources at their fingertips."
The network will deliver gigabit connections to every participating school, and will allow the schools to share everything from web-based instructional resources to online course materials to video conferencing services over a 10-gigabit private education cloud. This will mean additional options for rural America's young people.
"Perhaps most important, we have seen broadband level the educational playing field by bringing Advanced Placement classes, foreign language programs and other specialized courses to poor inner-city campuses and small rural schools that otherwise might not have the resources to offer these options. With today's launch of the Education Exchange, schools, students, teachers and parents across this corner of Appalachia will experience these benefits first hand".
While, for the NTIA, Education Exchange marks the pinnacle of their work, for us, the real work starts now. By partnering with ETC Communications, the oldest privately held telephone company in the state, and Parker FiberNet, an entrepreneur-driven network in Northwest Georgia, we hope the Education Exchange will come to serve as an example of how public and private funding can truly work together to benefit an entire region's future.
More Resources:
Read Angela Simpson's full remarks at the Education Exchange Kick-Off & Signing.