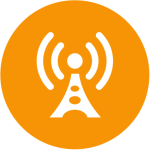 NGN offers Optical Wavelength service delivering high-capacity physical layer transport supporting a variety of signal formats in 1Gbps, 2.5Gbps, 10Gbps, 40Gbps and 100Gbps point-to-point configurations.
Utilizing NGN's Dense Wavelength Division Multiplexing (DWDM) core fiber ring, Optical Wavelength service provides private, dedicated transport across an optical wavelength delivering a reliable fiber optic private line. Service is available in linear (unprotected) configurations or ringed (protected) configurations, providing geographic fiber route diversity and sub 50ms failover.
Our Optical Wavelength service is backed by Service Level Agreements (SLA) covering the end-to-end availability for each point-to-point circuit.