[vc_row][vc_column][vc_column_text]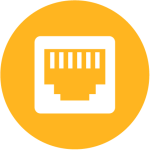 NGN Ethernet services offer dedicated bandwidth for any configuration and are provisioned across NGN's robust MPLS core network.[/vc_column_text][vc_column_text]
Ethernet Private Line (Point-to-Point)
Ethernet Private Line (EPL) is a carrier Ethernet service that provides point-to-point private Ethernet connections. EPL service supports CE-VLAN tag preservation and tunneling of key Layer 2 control protocols, which allow subscribers to configure VLANs across their sites without any need to coordinate with their service provider(s)."
All EPL services offer dedicated bandwidth to connect local, regional and national locations. It's ideal if you want full control of your network with the simplicity of a point-to-point connection.
Ethernet Virtual Private Line (Point-to-Multipoint)
Ethernet Virtual Private Line (EVPL) provides point-to-multipoint connections to link a central headquarters or data center to multiple offices. EVPL allows the multiplexing of multiple Ethernet Virtual Connections (EVC) to a single User Network Interface (UNI).
Ethernet Private LAN (Multipoint-to-Multipoint) With Fiber Endpoint
The multipoint-to-multipoint Ethernet Private LAN (EP-LAN) service offers extreme flexibility, connecting all locations to create a secure, shared-data network. EP-LAN service provides CE-VLAN tag preservation and tunneling of key Layer 2 control protocols between all locations. This allows the subscriber to configure VLANs across their sites without any need to coordinate with their service provider.
The EP-LAN services are available in multipoint, hub and spoke configurations. In addition, NGN will handle the configuration and management of the connections based on quality-of-service guidelines that you set. This eliminates the need for you to hire dedicated IT staff to manage and support it.[/vc_column_text][/vc_column][/vc_row]