William Sperin of White county schools went home from last week's Education Exchange launch with the 1st annual NGN Technology Leadership Award Education Exchange Award.

Paul Belk, CEO of NGN,  presented the first NGN Technology Leadership Award to William Sperin, the technology director of White county school system. Sperin was in attendance to accept the award and speak on the exciting new programs starting in the White County school district.
As the first school to be on the beta Education Exchange network, White county schools are forever changed by the technology that this program has made available. Through this network,  White County has been able to begin partnering with "Direct2Discovery" a Georgia Tech program that gives access to Georgia tech labs and leaders directly to the students for advance learning that they wouldn't otherwise have.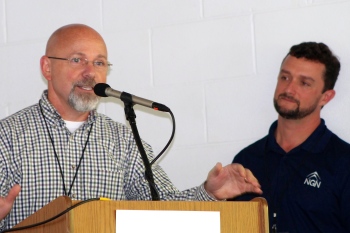 For White county, the Exchange has brought an insatiable desire for greater learning. Sperin describes some of the exciting programs this network has helped to build. Last year, their high school started Warrior TV, a student-led television station covering all events, games, and district happenings.  By the end of that first year, they were first in the nation, and by their second year they had won four Emmys in their division.
"The kids are excited to get up early and come in for extra learning." says Sperin, he continues, "I can't wait to see what our students and teachers do in the future because of the great collaboration and the teamwork amongst Education Exchange schools."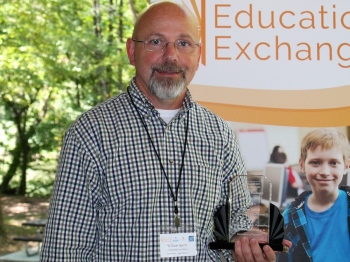 Paul Belk announced the that inaugural award will become an annual tradition that he hopes schools will strive to obtain. "Only with schools taking ownership over the Education Exchange will we be able to fully realize its potential for the children in North Georgia. William and White County exemplify this creative initiative-taking leadership that will impact their region for generations," said Belk.
NGN is proud to partner our technological infrastructure with rural education leaders driving Georgia forward with creative content and applications of technology that make for more competitive, capable Georgia students.
Additional Resources:
Read the full account of the Education Exchange Launch on the NGN blog.
To learn more about the technology and programs started in White county check out this great article on White county schools from Georgia Trend magazine.
Curious about the awards White County has won with their Warrior TV program. Read about their US TV winnings on the official US Education TV website.