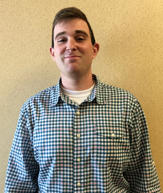 James O'Dell has joined the Network Operations – Outside Plant Operations Department as a Directional Drill Operator / Locator.  He will be assisting with all facets of building fiber optic outside plant, from heavy equipment operation and directional boring to fiber splicing, cable installation, and service activation.
NGN will benefit greatly from James' varied skillset and experience.  After graduating from North Georgia Technical College's Apprentice Lineman Certification Program in 2014, James took a position with Pike Electric, where he worked with outside electrical utility equipment and various pieces of heavy machinery, including bucket trucks and excavating equipment.  Two years later, he graduated from the U.S. Air Force Technical School as a Cable & Antenna Apprentice Technician, with certifications in pole-top and tower rescue.  James remains a member of the Georgia Air National Guard.  In addition to his Air Force education, he retains a Fiber Optics Installer Certification with the Electronics Technician Association.
We are excited to work with James as the network continues to grow!