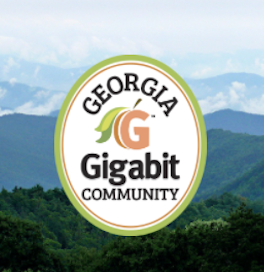 Your community's gigabit connectivity can open doors to economic growth by providing local businesses with the tools to compete on a global basis, while attracting new tech-savvy companies that require high-speed broadband. Local residents also benefit with access to improved healthcare via telemedicine and new educational opportunities for their children.
So you have this powerful gigabit connectivity at your fingertips, but you need to let your community and people looking to locate there knows it exists! Here are the "Top 10" ways to promote your Georgia Gigabit Community to your current and potential businesses and residents.
Add a Georgia Gigabit Communities architectural sign to your "Welcome to Our City" sign. This is essentially a billboard for anyone driving into and out of your city. While you're at it, be sure to support local businesses to get your sign produced.
Hang your Gigabit Communities plaque in your Chamber, Development Authority, City or County office. If you weren't able to attend NGN's Georgia Gigabit Communities Summit last year, contact us at info@ngn.coop to make arrangements to secure your plaque.
Hang up your "virtual" sign. We know not all of your visitors come through your office doors, but rather "visit" you on your website and social media handles. Add the Georgia Gigabit Communities logo to your homepage and include it on the banner image of your Facebook, Twitter and LinkedIn pages.
Include detailed information about gigabit connectivity on your website. We can provide you with example copy to get you started. Consultants helping businesses find a new place to locate often head to a community's website to see what benefits they can provide. Access to gigabit broadband is one of the hot items they are looking for nowadays.
Print out the Georgia Gigabit Communities flyer (find the download here) and provide to businesses in your area. Whether it's in a new business folder or handed out during a community meeting, some people like to read the information on paper!
Add the Georgia Gigabit Communities logo to your advertising. Whether it's a print advertisement or a festival banner, add the logo to show your special distinction.
Tell the world on social media. It's easy to do – just tell your followers! Don't have a social presence yet? In this digital age, forming a social media presence can be a powerful vehicle for communicating to your community. Start a Facebook, Twitter or LinkedIn (or all of the above) and use your gigabit speeds to post your first message!
Email your members. Whether it's a section of your e-newsletter or a message all on its own, educate your email database about the benefits of being a Georgia Gigabit Community.
Invite NGN to speak at your community meeting. Our team would be happy to help you educate the leaders in your area on the benefits of gigabit connectivity. Contact us at info@ngn.coop and we can coordinate schedules.
Promote your community's resource in local media outlets. Whether the newspaper, radio or local bloggers, your local media outlets can help you spread the word.
NGN is proud to support Georgia Gigabit Communities. For more information, contact us at info@ngn.coop.