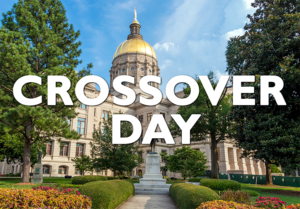 Lawmakers have reconvened this week to discuss important state legislation, including various bills that could affect rural broadband in Georgia.  For the bills, time is running out, as today marks "Crossover Day" within the Georgia House and Senate.  If a bill has not passed in at least one chamber by the end of the day, it is effectively "dead" for the 2018 legislative session. This does not mean a bill cannot be revived during the next year or amended onto another bill,[1] but it does delay progress and put needed infrastructure at risk should these bills not be voted in.
With the deadline looming, here is a quick recap of the key broadband bills we have been keeping an eye on and you too!
CROSSED OVER
Senate Bill 402: Released by Senator Steve Gooch, Senate Bill 402 or the Achieving Connectivity Everywhere (ACE) Act was unanimously passed by the Senate last Friday.[2]  This bill contains a number of broadband-related items, many of which have been referenced by Lt. Governor Casey Cagle during his campaign for Governor.  The bill:
Creates a statewide broadband deployment plan to be coordinated by the Georgia Technology Authority.
Allows OneGeorgia funds to be used for broadband.
Opens more state rights of way for broadband infrastructure.
The bill crossed over to the House on 2/23/18, where it must now be considered.
UP FOR VOTE
Senate Bill 232: Senate Bill 232 or the Facilitating Internet Broadband Rural Expansion (FIBRE) Act has also been proposed by Senator Gooch.  The bill is a key part of the rural broadband discussion as it gives EMCs the authority to provide communities with emerging communications technologies like fiber-optic broadband.  SB 232 will be up today for a critical floor vote in the Senate, as it is one of the bills still seeking to survive Crossover Day.
Senate Bill 426: Senator Gooch is a strong proponent of solving the rural broadband problem, and this can be seen through the many broadband-related bills he has proposed this session.  One of which is SB 426, a bill focused on streamlining the deployment of wireless broadband in public rights of way.  The bill would enact the '"Broadband Infrastructure Leads to Development (BILD) Act" to limit the ability of local governing authorities to prohibit, regulate, or charge for use of public rights of way under certain circumstances."[3]  Previously this bill included EMC poles but, as of last Thursday, it has been edited to exempt them from any requirements set in the bill.  Like the bill above, SB 426 is currently in the Senate Rules committee where it is waiting to be placed on the floor for the Senate vote.  It will need to pass this chamber today to make it to the House.
House Bill 887: This bill gained recognition over the past couple of weeks as the 'Netflix Bill."  Introduced by Representative Jay Powell at the beginning of the month, HB 887 originally considered a 4% tax on any digitally delivered digital services: Netflix streaming, digital downloads, satellite TV, e-book purchases and more.  Concern about this increase lead to revisions last Thursday that omitted any changes to tax rates.[4]  The revised bill has now passed out of the House Ways and Means committee and is awaiting advancement to the floor for a House vote. The bill also allows for a reverse auction of state funds for providing broadband to unserved/underserved areas and includes statutory clarity language for EMCs to engage in broadband services.
Follow us on Facebook, Twitter, and LinkedIn for more updates on Georgia broadband legislation and learn more about NGN's network here.
[1] http://www.11alive.com/article/news/local/crossover-day-where-legislation-lives-or-dies/418843346
[2] https://www.dawsonnews.com/local/senate-unanimously-passes-bill-encouraging-broadband-internet-expansion/
[3] http://www.legis.ga.gov/legislation/en-US/Display/20172018/SB/426
[4] https://politics.myajc.com/news/state–regional-govt–politics/proposed-netflix-tax-removed-from-georgia-bill/yZNFc76cLR7Vy138CAw1GM/