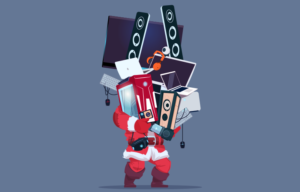 How many of the Christmas presents you gifted or received connect to the internet? Did you used Skype or another VoIP service to speak with family or friends this season? Maybe you cozied up by the fire with family and ordered a movie on demand? Chances are, you've done some online holiday shopping – or welcomed an influx of consumers to your own store.
What's the common thread between those activities? Broadband. It's become a core part of the holidays and you may not even realize it. Many rely on high-speed internet to connect with distant family, shop online for the perfect gift, play new interactive gaming systems, stream favorite Christmas movies on demand, and download software for the devices Santa's delivered. Countless gifts are "connected" as well – from popular FitBit watches to Amazon Echo and even "smart" home appliances. In 2017 alone, 8.5 billion connected "things" were in use and Gartner predicts the average home will have as many as 50 connected devices by 2020. The increase in these devices from 2016 to 2017 alone was 31%![1]
The National Retail Federation projected final 2017 holiday retail sales for November and December (excluding automobiles, gasoline and restaurants) to increase by about 4 percent for a total of roughly $682 billion, up from $655.8 billion last year.[2] As expected, electronics and appliances are leading the categories of gifts – with sales of these items expected to increase by a whopping 9.3 percent during 2017.[3]
These statistics not only translate to more gifts under the tree that require broadband, but also mean retailers need high-speed internet more than ever to complete in-store credit and debit card transactions, re-order items to keep a steady inventory and quickly process online orders. While e-commerce is outperforming sales in physical retail, First Data numbers show 3.9 percent growth for brick-and-mortar store sales as of early December 2017.[4] The bottom line is, more shopping – whether it's online or in store – and that means more reliance on broadband all around.
Without even knowing it, high-speed internet powered by NGN's fiber optic network may have played a part in your holidays. We're proud to power many businesses that are boosting the economy in the Southeast, and we're thrilled to help enable a smoother shopping experience for consumers – and help ensure immediate enjoyment of all the Xboxes, PlayStations, wearables, iPhones and other internet-enabled gifts you received this Christmas.
We hope you spent a Merry Connected Christmas and New Years with family and friends, and we look forward to continuing to be part of your holidays for years to come!
Learn more about NGN's network here and follow us on Facebook, Twitter and LinkedIn for our latest news.
[1] https://www.gartner.com/newsroom/id/3598917
[2] https://nrf.com/resources/consumer-research-and-data/holiday-spending/holiday-headquarters
[3] https://www.cnbc.com/2017/12/15/holiday-shoppers-are-feeling-generous-this-year.html
[4] https://www.cnbc.com/2017/12/15/holiday-shoppers-are-feeling-generous-this-year.html