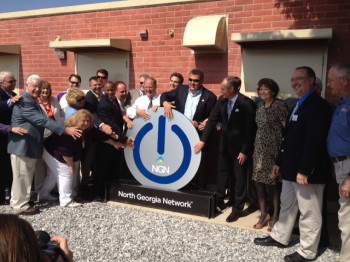 This year, NGN is celebrating its 10-year anniversary! That's right, it has been a decade since community leaders and anchor institutions from Lumpkin, White, Union and Forsyth Counties and our EMC Members came together to build high-speed infrastructure across North Georgia and improve the region's economic development. It is amazing to think that what started out as an idea from a small group of visionaries turned into a 1,700-mile fiber optic network that is supporting over 9,000 businesses, schools and homes today.
To really see the full impact NGN has had on our region, we looked at the numbers over the years:
In 2007, Bruce Abraham, who was serving as Director of Lumpkin County Development at the the time, watched as his community's economy spiraled downward and area companies began to close.  Abraham recognized area businesses were not able to fully promote themselves or work efficiently because they lacked the broadband capacity to do so.  With the vision of bringing broadband to North Georgia, Abraham approached economic developers in surrounding counties and quickly found resounding agreement.  That same year, a multi-county partnership was formed to build the high-speed infrastructure needed to improve the region's economic development.
In 2010, NGN's office was officially established with 4 team members. Since then, we have grown to employ 22 local residents and are excited to boost that number even more in 2017.
In 2011, NGN completed its 260-mile core ring – today, the network boasts over 1,700 miles of fiber optic infrastructure and continues to grow.
In 2012, NGN installed its first Core Point-of-Presence (C-PoP) in Cleveland, Georgia– today, we have 11 C-PoPs that support the network.
In 2013, eight North Georgia school systems with the University of North Georgia and the Georgia Department of Education met with NGN to talk about developing a regional education network that would enable shared learning experiences for our students. Today, through a partnership with ETC Communications and Parker FiberNet, NGN powers the Education Exchange, a 10-Gigabit, 3,600-mile fiber optic network connecting every county from the western to the eastern state borders of North Georgia. This network can potentially connect 330 public and private schools, allowing unprecedented collaboration, shared resources, and expanded curriculum.
A special "thank you" to the local and state leaders who have helped make the vision of high-speed infrastructure and connectivity into the thriving fiber optic network that NGN is today.
We look forward to another 10 years of supporting our Georgia communities and beyond!